December 2018
| Mon | Tue | Wed | Thu | Fri | Sat | Sun |
| --- | --- | --- | --- | --- | --- | --- |
| | | | | | 1 | 2 |
| 3 | 4 | 5 | 6 | 7 | 8 | 9 |
| 10 | 11 | 12 | 13 | 14 | 15 | 16 |
| 17 | 18 | 19 | 20 | 21 | 22 | 23 |
| 24 | 25 | 26 | 27 | 28 | 29 | 30 |
| 31 | | | | | | |
Calendar

Page 25 of 25 •

1 ... 14 ... 23, 24, 25

up..up...dulu bro....biar forum lebih hidup dan ramai...

Para General




Posts

: 1155


Reputation

: 5


Join date

: 2009-04-17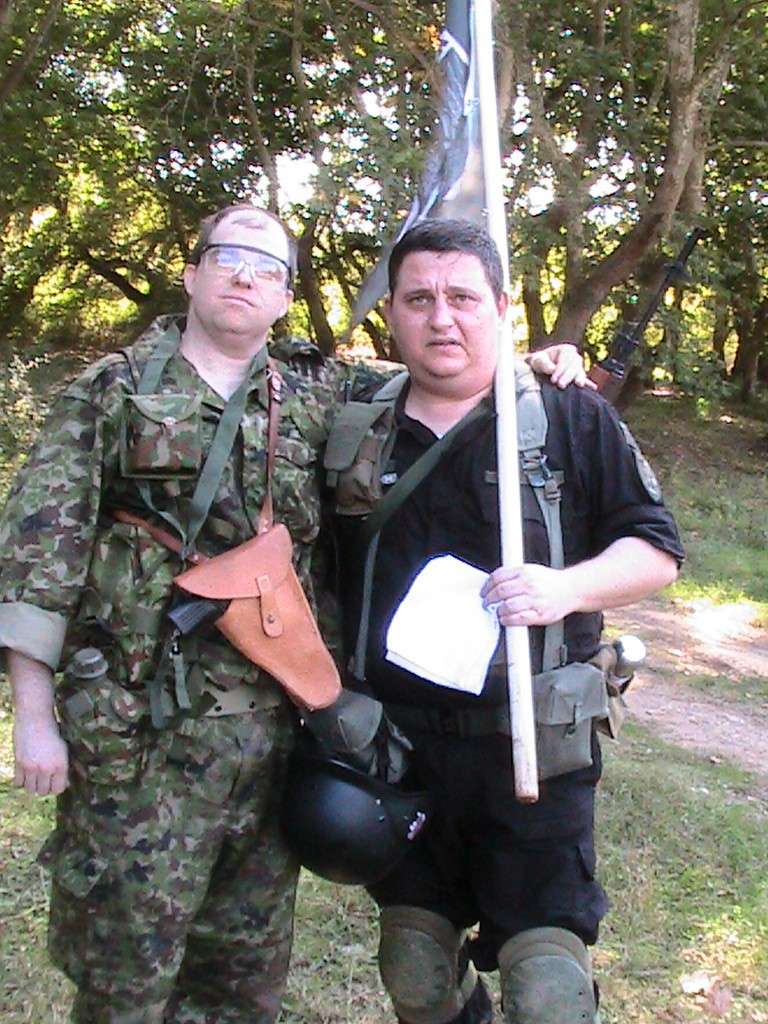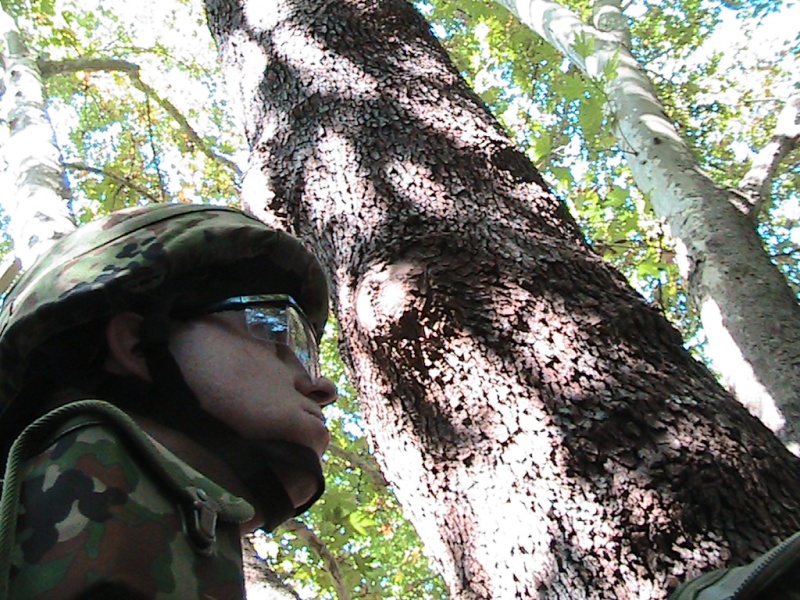 YES! YES! I KNOW!!! I KNOW!!! I'VE BEEN AWAY VERY VERY LONG HEAH?

YES...WELL....YOU KNOW HOW THESE THINGS ARE GOING.......FAMILY...LIFE....ANXIETY, ETC, ETC!!! I'M SO SORRY GUYS. IN ANY CASE, I NEVER FORGET MY INDONESIAN FRIEND, AND THAT'S WHY I'M BACK.

FIRST OF ALL MY MOST WARM GREETINGS TO MY NEWEST FRIENDS
zhoel & telormatasatu.
THANK YOU FOR WRITING DOWN GUYS. WELL.....EVER SINCE I LEFT, MANY THINGS HAPPENED TO OUR LOCAL AIRSOFT COMMUNITY. FIRSTLY THEY ALL......BROKE UP!!!

YES!!! YES!!! THE TEAMS ARE NOT UNITED ANY MORE!!! AS IT SO OFTNE HAPPENS IN YUNANI, PEOPLE COULD NOT COMMUNICATE VERY WELL WITH EACH OTHER AND THAT'S WHY AT THE END THEY HATE EACH OTHERS GUTS AND WENT TO DIFFERENT DIRECTIONS!!! H.A.C.T STILL EXIST AND SUPPOSE TO ORGANIZE ALL, BUT IN REALITY THERE'S STILL HATE AND DISBELIEF BETWEEN THEM AND THE REST OF THE AIRSOFTERS HERE AND THAT'S WHY THEY MOSTLY OPORATE ALONE!!! NOWADAYS MOST OF THE GAMES TAKE PLACE MAINLY BETWEEN FRIENDLY GROUPS THAT JUST COMMUNICATE WITH EACH OTHER ON WEEKLY BASIS AND ARRANGING THIS WAY THE GAMES.AS FOR ME, I DO BELONG OFFICIALY TO H.A.C.T BUT MAINLY FOR THE PURPOSE OF HAVING THEIR I.D. WHICH CAN PROVIDE ME SECURITY IN CASE OF POLICE CONTROL SINCE H.A.C.T IS NOW OFFICIALY RECOGNIZED BY THE GREEK STATE AND THE AUTHORITIES. I DID HOWEVER FOUND NEW FRIENDS WHO RECOMENDED ME TO JOIN THEIR GROUP. THEREFORE I ALREADY LEFT THE "SPARTANS" WHO ACTUALLY BECAME A GHOST GROUP (THEY VERY RARELY SHOWED UP IN GAMES) AND JOINED A NEWLY FORMED GROUP NAMED "ARGONAUTS" NAMED AFTER THE ANCIENT GREEK MARINES OF THE GREEK MYTHOLOGY (THEY WERE THE FIRST MARINES IN THE WORLD ACTUALLY). THESE GUYS ARE ARMY AND AIRSOFT CRAZY AND TOGETHER WE FORM A KICK ASS GROUP SINCE THESE GUYS ARE DEDICATED TO WHAT WE ARE DOING AND NOT JUST HAVING IT AS A GAME. I'M NOT THE LEADER THERE BUT I AM AT LEAST ONE OF THE SENIOR NCOs (SOMETHING LIKE MASTER SERGEANT) SINCE I'M THE OLDEST GUY AMONG THEM. THE ONLY RULE IS THAT WE ALL MUST BE DRESSED AS MODERN GREEK SOLDIERS.IN ANY CASE HERE I HAVE FOR YOU THE FIRST PICTURES FROM ONE OF OUR PREVIOUS GAMES IN WHERE I PLAYED DRESSED AS A MODERN JAPANESE SOLDIER. ENJOY THEM.....
YOU GOT USED TO SEE ME DRESSED LIKE THIS?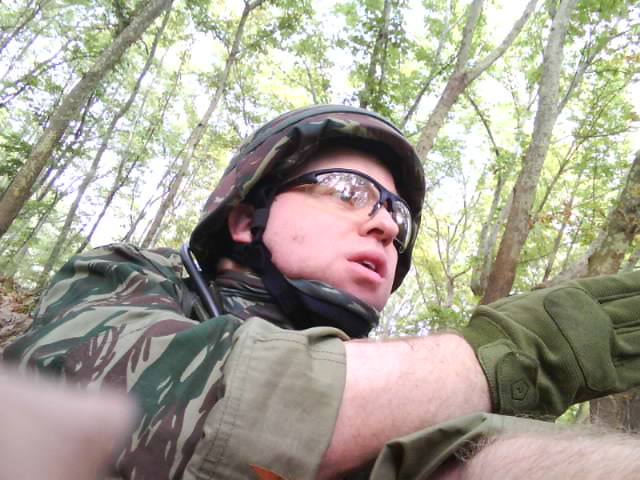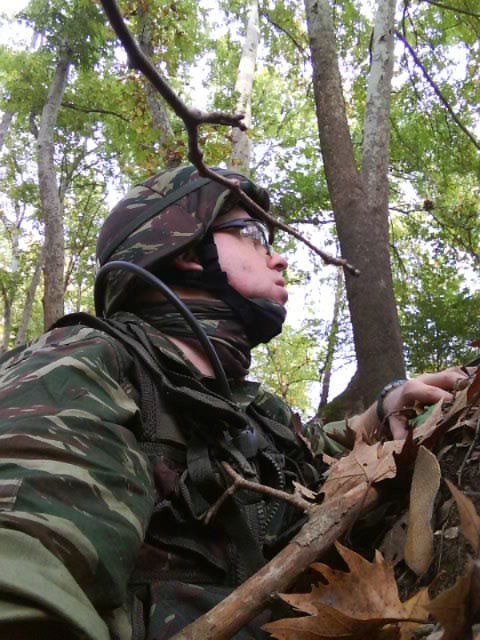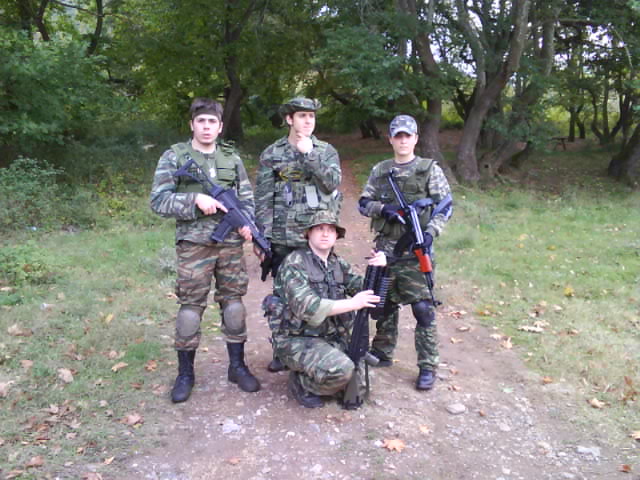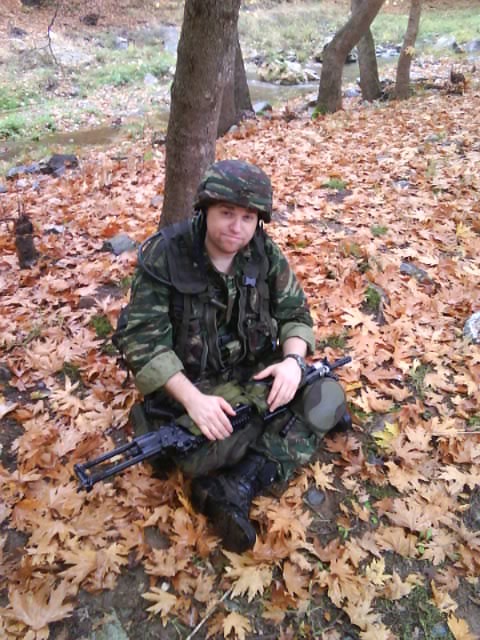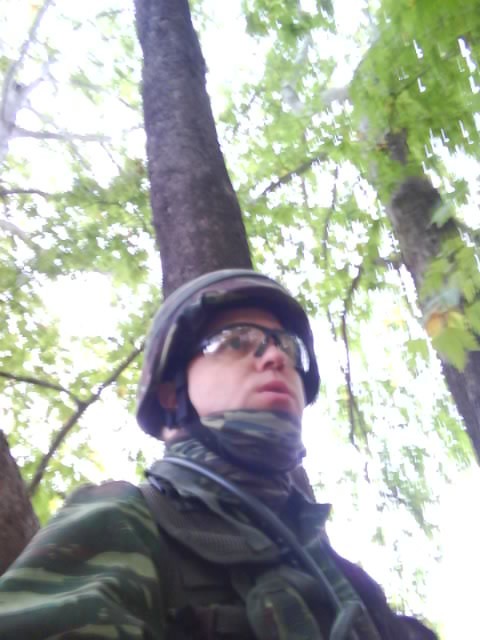 WELL......YOU CAN FORGET IT!!!

FROM NOW ON I'LL BE DRESSED LIKE THAT!!! AS YOU CAN SEE I'M ALREADY FULLY EQUIPED WITH GREEK GEAR SO THAT I CAN POSE AS A GREEK SOLDIER. I EVEN UPGRADED MY SELF - AND THEREFORE THE RATE OF THE FIRE OF MY GROUP - BY PURCHASSING A G-3 RIFLE WITH A 203 GRENADE LAUNCHER AS WELL AS A MINIMI MACHINE GUN. WE ALREADY PLAYED A FEW, VERY DAMN GOOD GAMES IN WHERE I LITTERALY WIPED OUT OUR ENEMIES WITH SUCH WEAPONS. IN A COUPLE OF THE PICTURES YOU CAN SEE ME POSING NEXT TO STEPHAN, WHO'S THE LEADER OF OUR GROUP AND A PERSONAL FRIEND OF MINE, AS WELL AS WITH THE REST OF THE GUYS OF THE "ARGONAUTS" GROUP........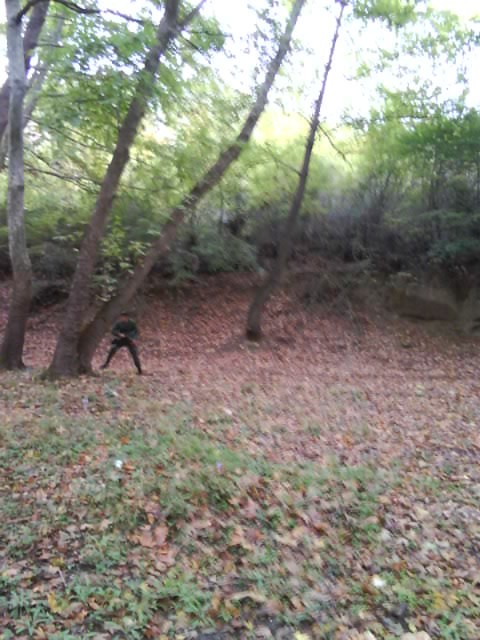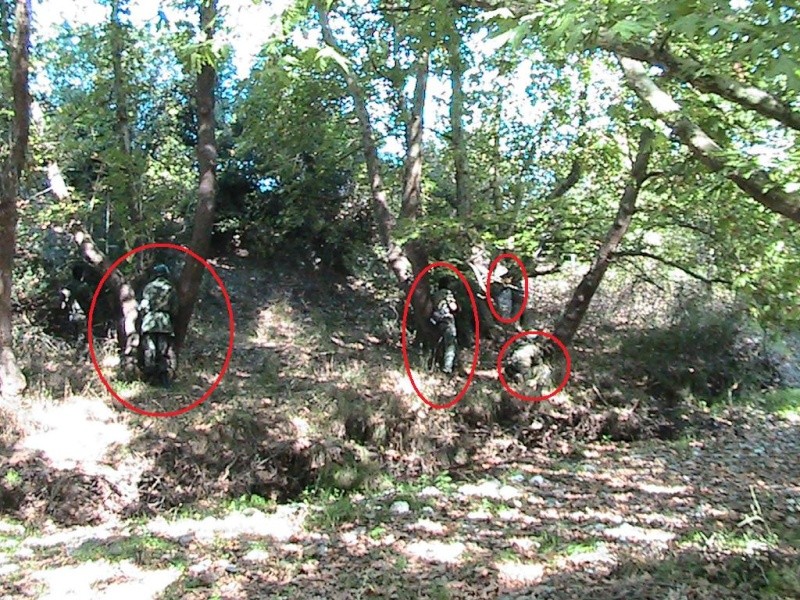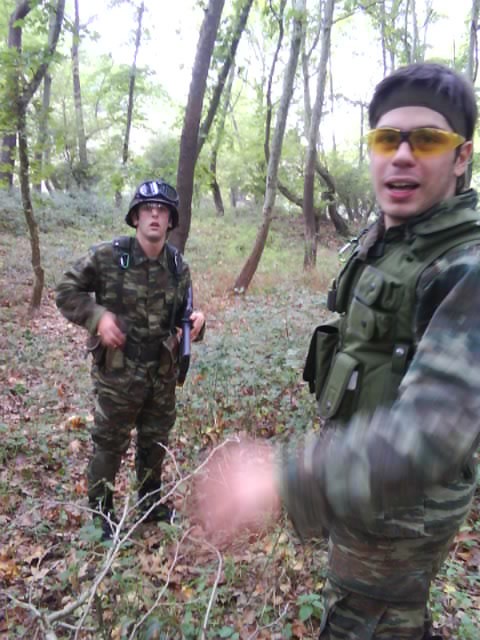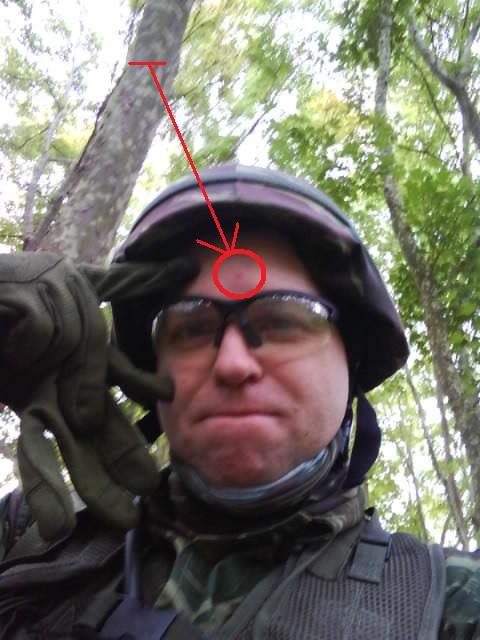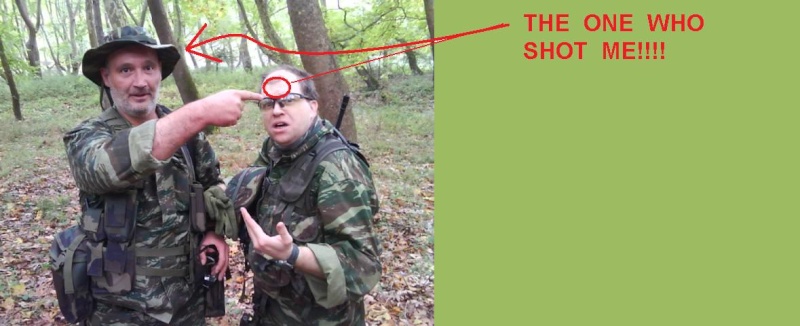 .....AND HERE ARE A FEW PICTURES OF ONE OF SUCH GAMES. OFCOURSE NOT ALWAYS I GOT OUT OF THEM....."ALIVE"!!!

AS YOU MAY SEE, IN AT LEAST ONE OCASSION I GOT SHOT DEAD AHEAD!!!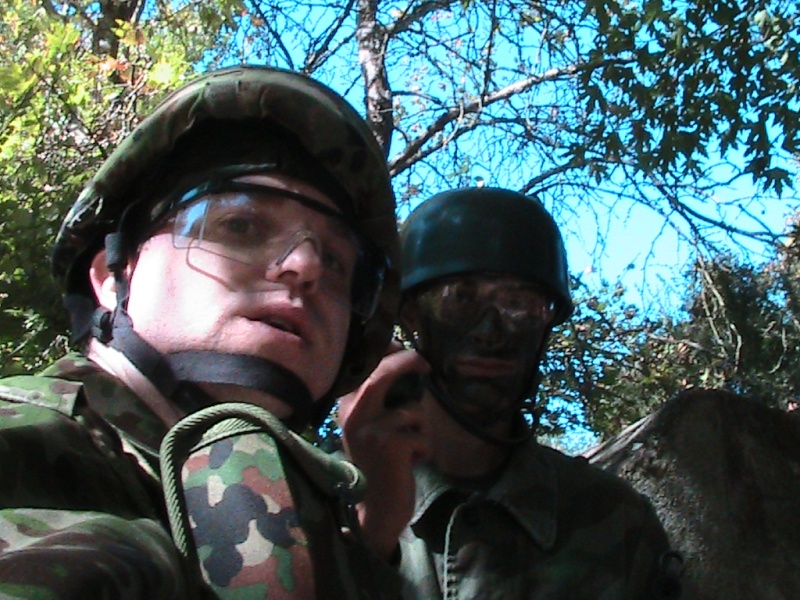 LAST BUT NOT LEAST THE LATEST NEWS.....I'M ABOUT TO SET UP A W.W.II AIRSOFT GROUP WITH ALL THE GUYS BEEN DRESSED IN AUTHENTIC REPRODUCTIONS OF UNIFORMS OF THAT TIME, AS WELL AS BEING ARMED LIKE THAT. EVEN THOUGH STEPHAN IS HELPING ME IN THIS, I'LL BE - HOWEVER - THE LEADER IN THIS SINCE I'M THE MOST EXPERIENCED COLLECTOR OF THEM ALL. I'LL BE STRICKT IN THE RULE THAT OBLIGE EVERYBODY TO BE DRESSED AND BE ARMED EXACTELY AS THE ARMIOES WERE IN W.W.II. SEVERAL GUYS ARE EXCITED ALREADY, FOR THE PROJECT, EVEN THOUGH THEY ARE NOT PREPARE YET, AND SO I'LL RENT THEM MY OWN UNIFORMS, FROM MY OWN PRIVATE COLLECTION. THE WAY I SEE IT THE FIRST GAMES WILL BE MINIMIZED WITH A PLATOON OF 6 PERSONS (AT THE MOST) FROM BOTH THE GERMAN AS WELL AS THE ALLIED TROOPS. ADDITIONALY I'LL BE THE ONE WHO WILL LEAD THEM AND PLAN EVERY GAME ACORDING TO W.W.II FAMOUS - OR NOT - BATTLES. YOU JUST HUNG ON GUYS AND WE'LL HAVE THE FIRST....CORRESPONDANCE OF THAT..."FRONT" FOR YOU. AS A MATTER OF FACT, THERE ARE SOME OF THEM WHO ARE SO ANXIOUS FOR SUCH GAMES, THAT THEY EVEN SHOW UP IN OURS DRESSED WITH UNIFORMS OF THAT TIME, LIKE CHRIS HERE, THAT YOU MAY SEE HIM IN THE ABOVE ATTACHED PICTURES BEING DRESSED AS A W.W.II GERMAN PARATROOPER!!! WELL THAT'S ALL FROM.....AIRSOFT YUNANI FOR NOW. OH! NOT TO FORGET....ROLLAND BRO...AS YOU MAY SAW FROM MY OWN PICTURES ABOVE, THERE IS A NEW GREEK ARMY LIZARD CAMO COMBAT JACKET AVAILABLE ALREADY, THAT COULD MACTH YOUR OWN YUNANI TENTARA UNIFORM VERY NICE. I WILL TRY TO SEND YOU ONE BUT PLEASE GIVE ME SOME TIME BEFVORE I DO THAT, BECAUSE I HAVE SOME OTHER PREVIOUS FINANCIAL ENGAGEMENTS OKEY? I WILL ALSO TRY TO SEND YOU THE BOONIE HAT YOU'VE ASKED ME. ALSO GUYS.....PLEASE....SEND ME HERE SOME OF YOUR AIRSOFT ACTIVITIES' PHOTOS. FOR SOME TIME NOW I DON'T KNOW WHAT ARE YOU DOING BACK THERE IN GOOD OLD INDONESIA. TERIMA KASI. SELAMAT BROTHERS.
Hellow bro,it's been a long time Lyc...well it looks you have a good game there...you got hit in the head ya..hahaha..it must been hurt real bad ha...?bro that new lizard camo looks great bro i like it bro..thanks...you still got my email right..you can contact me there also bro...i'm not always on line any more since i dont have the internet connection at my home now...I' all ready got the camel back from your wife bro..thanks alot ya... ;-)

see you...
Para General




Posts

: 966


Reputation

: 0


Join date

: 2008-04-02


Age

: 40


Location

: JAKSEL



bro so sorry about your old team mate...i know it can be sucks some times..it happened too here in Indonesia bro,no worries about it just move along....atleast you got a new team mate now..hey Lyc do you know that here in indonesia we have a new airsoft magazine called RELOAD..it's about to release a second edition...give me your address I'll send you a copy...don't be surprise if you see me there hahahaha...
see yaa..

Para General




Posts

: 966


Reputation

: 0


Join date

: 2008-04-02


Age

: 40


Location

: JAKSEL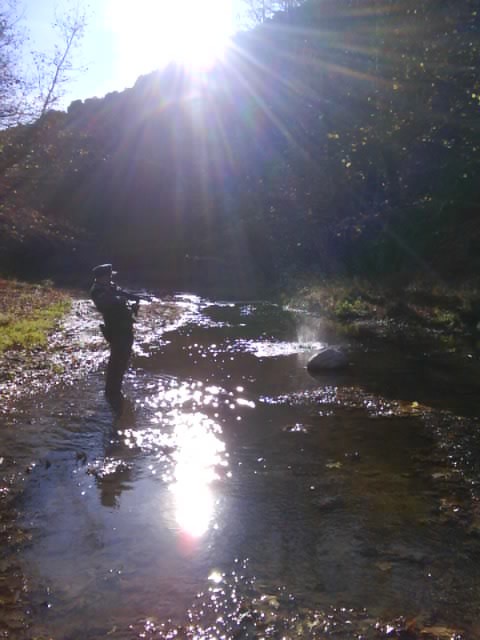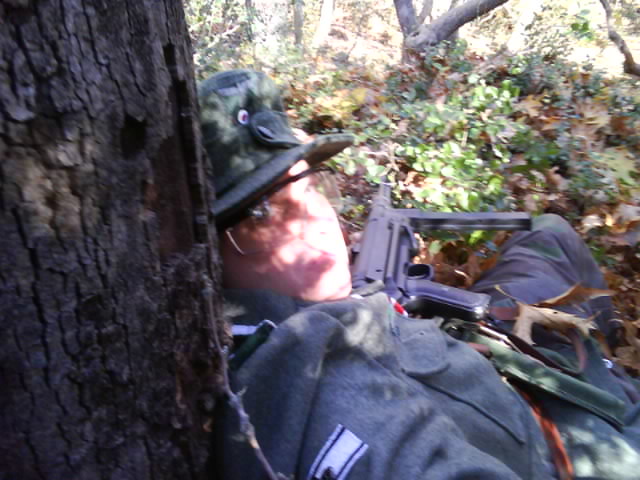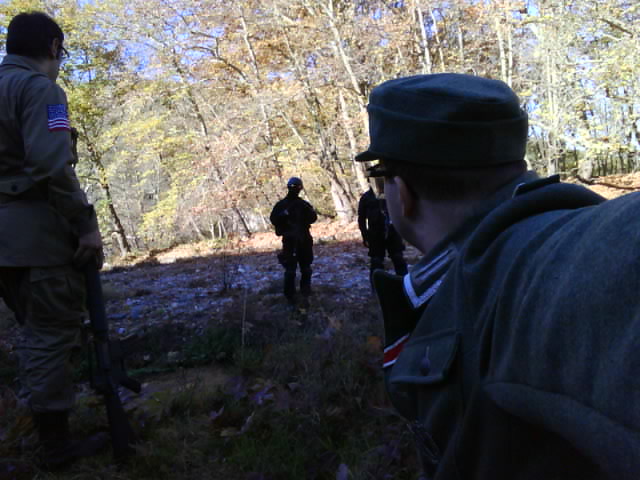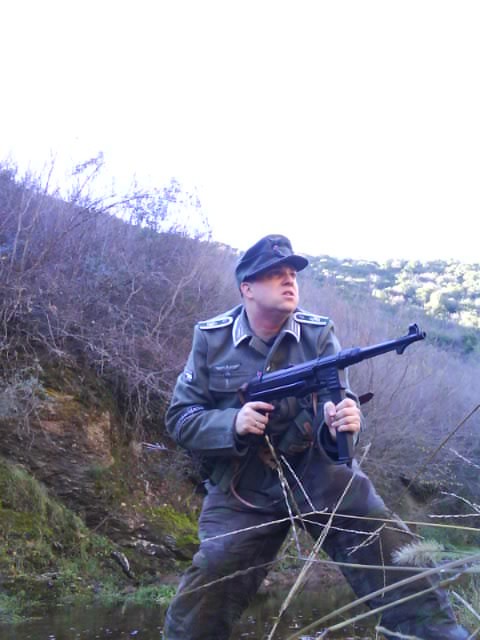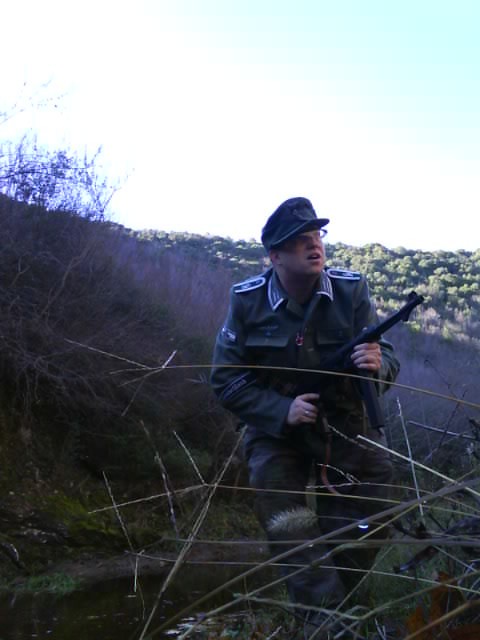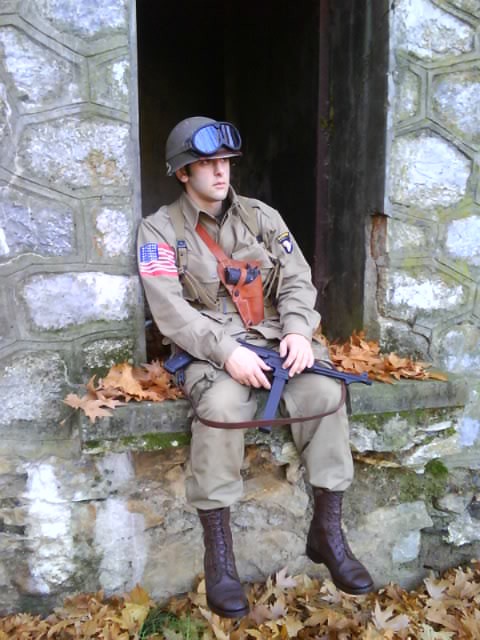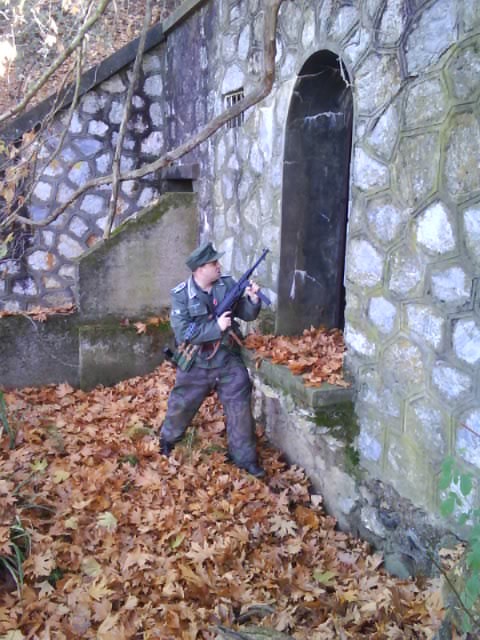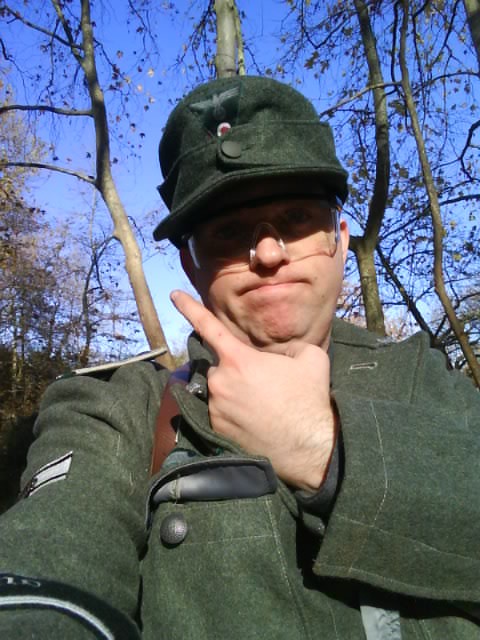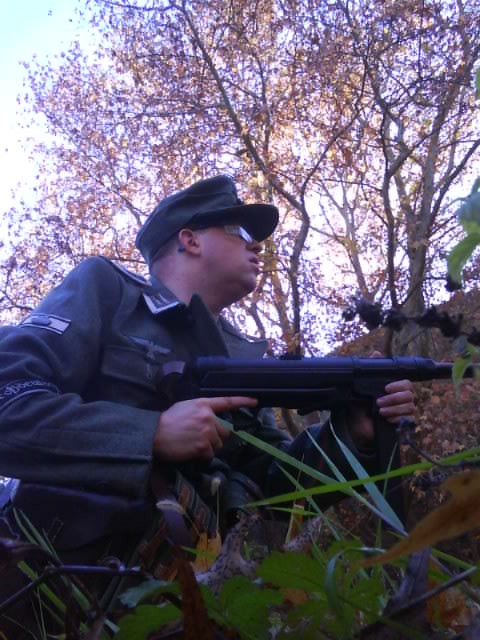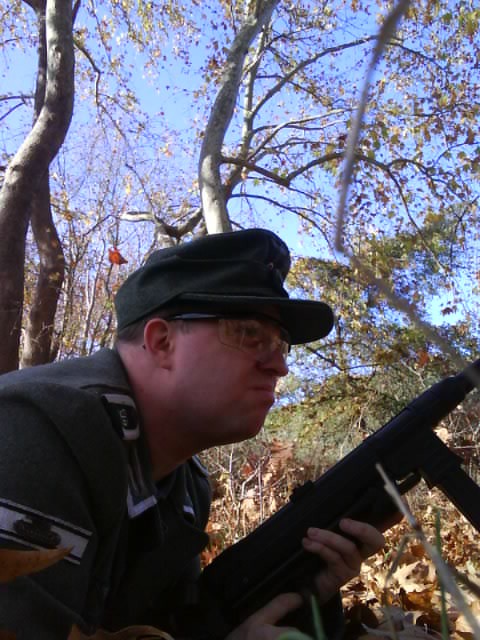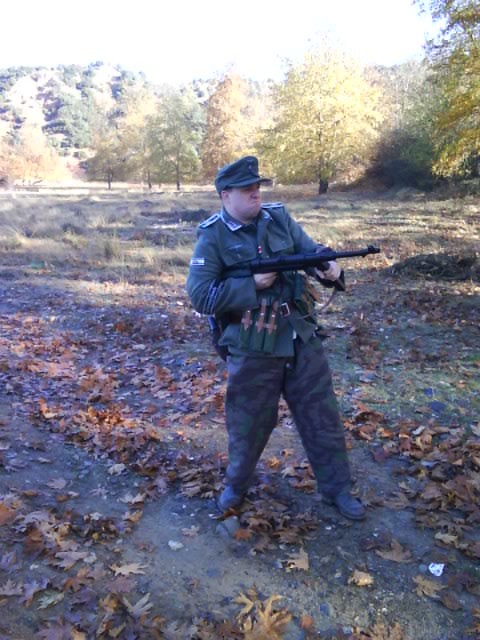 FIIIIIIINALY!!!

WHERE ARE YOU GUYS? I MEAN...OKEY

....I DID GOT VANISHED FOR A WHILE, BUT THEN AGAIN I'M KNOWN TO MY CIRCLES AS A.......COMET (COMING AND GOING AS I PLEASED AND WHEN I PLEASED) BUT YOU?

IN ANY CASE YES...HERE I AM AGAIN, TOTALY RENEWED AND IN FULL THROTLE!!! NOWADAYS THE NAME OF THE GAME IS........RETRO!!! (MEANING....OLD STYLE). NOW I'M W.W.II CRAZY AND I ALREADY PLAYED A GAME OF THIS KIND WITH MY COMRADE....SOLID SNAKE (...OR ELSE KNOWN AS STEPHAN!!!) HE WAS THE GUY DRESSED AS A W.W.II AMERICAN PARATROOPER. WE WENT AT THE AREA OF LANGADIKIA INSIDE THE THICK FOREST. THERE WE HAVE FOUND ANOTHER TWO GUYS WHO HOWEVERE, WERE DREESED AS MODERN BLACK OPS TROOPERS. SINCE WE DIDN'T HAD ANY OTHER CHOISE, WE FINALLY PLAYED WITH THEM. THAT WAS A VERY NICE GAME, AND PARTICULARLY THE LAST ONE IN WHERE NOT ONLY THE HUNTING PARTY (THE GUYS IN BLACK) OVERPASSED ME WITHOUT NOTICE WHERE WAS I, BUT I ALSO WENT BEHIND THEM, START SHOUTING AT THEM, SURPRISE THEM (BECAUSE THEY DIDN'T EXPECT ME TO BE BEHIND THEM!!!) AND THEN LEAD THEM TO A TRAP IN WHERE I "KILLED" THEM BOTH WITH MY MP-40!!! I WAS DREESED AS A "GROSSDEUTSCHLAND" SERGEANT. THEY WERE A SPECIAL INFANTRY UNIT WHO FOUGHT IN RUSSIA, AND WAS APOINTED TO RESCUE TRAPED GERMAN UNITS. WE ARE PLANING TO PLAY A FULL W.W.II GAME AT THE ENDS OF THIS MONTH, AND I WILL BE ABLE (THANKS TO MY UNIFORM COLLECTIONS AND AIRSOFT ARSENAL - I ALREADY OWN A MAUSER RIFLE, AN MP-40 S.M.G, A LUGER PISTOL, AN 1911A1 U.S. ARMY PISTOL,A STEN S.M.G, AND AN MP-44 S.M.G, WHILE I'M PLANING TO BUY A BROWNING HIGH POWER PISTOL TOO) TO DRESS 5 GERMANS AND ANOTHER 3 MEN OF THE ALLIES. AS SOON AS WE'LL HAVE PICTURES FROM THERE I'LL SEND THEM RIGHT AWAY. AS FOR NOW DO ENJOY THE ONES I'M SENDING YOU HERE.SELAMAT BRO.
P.S: OFCOURSE I'M INTERESTING ABOUT YOUR MAGAZINE.TERIMA KASI.
up..up...dulu bro..

Para Commander





Posts

: 275


Reputation

: 4


Join date

: 2009-09-15


Age

: 78



Page 25 of 25 •

1 ... 14 ... 23, 24, 25


Similar topics
---
Permissions in this forum:
You
cannot
reply to topics in this forum